Andrew - 1st hand account
HURRICANE ANDREW REVISITED - FIRST HAND ACCOUNT FROM THE INNER NORTHERN EYEWALL

The hurricane was tracking w-wsw the days prior to landfall, and it appeared that it might go south of the state and through the straits of Florida. The last set of progs or two did have some wnw turn just prior to landfall, and the official NHC (National Hurricane Center) forecast did that as well, after coming inland near Florida City and Homestead..

As far as where hurricane chasers and TV crews were located, here is what I observed and heard.

I might not have all the accounts, but to my knowledge WTVJ Channel 4's guys were downtown near Biscayne Blvd; on the northern edge of the map. TWC (The Weather Channel) guys were at the NHC or next door at the Holiday Inn in South Coral Gables. Terry Nixon (chaser 1965-2000) came from north and ended up on SW 40th street near 117 ave. Warren Faidley and Mike Laca were in Coconut Grove about 3 miles NE of the NHC. Chris Collura was on SW 88 st, south of the NHC. A Mr. Brown from Georgia holed up at the Howard Johnson's in Homestead on US 1 west of the Air Force Base. Andrew Dressler and myself ended up during the most destructive winds near SW 160 St., on 99 AVE, and 1 mile west of US 1. That's all the hurricane chasers that existed (to my knowledge) to that date; except Jim Leonard, who was spending the summer in Guam.

As Hurricane Andrew tracked westward that put each the following distance from the northern edge of the EYE: Brown, in the southern half of the eye: Dressler and myself, 2 miles; Collura,7 miles; TWC - 9 miles; Nixon, 9 miles; Faidley and Laca, 11 miles; Channel 4, 14 miles.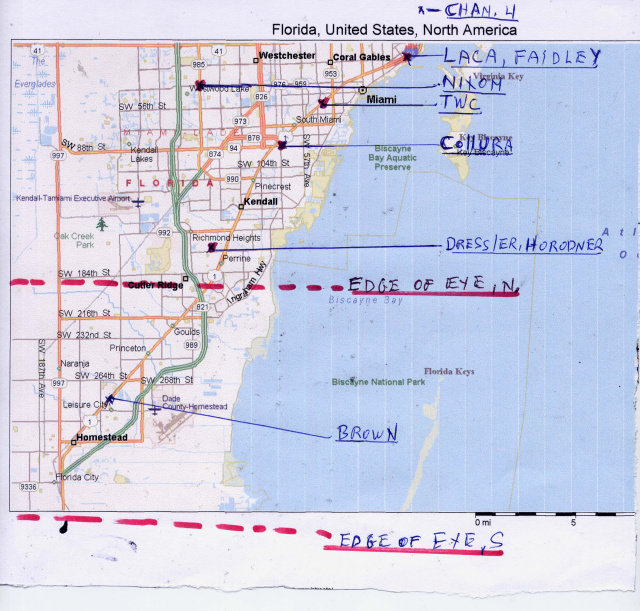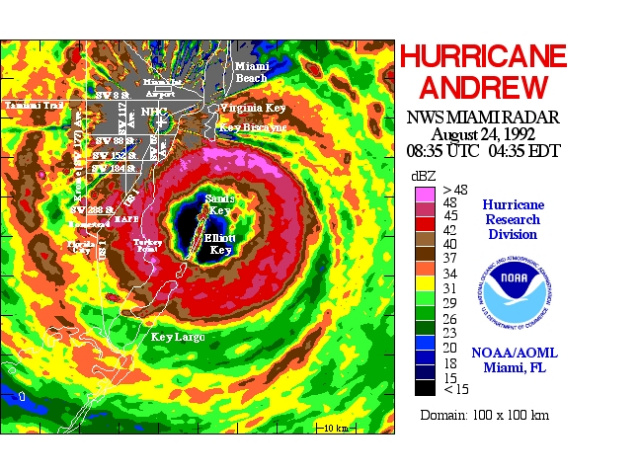 Here's my summary account:

On the morning of Aug. 23rd., as Andrew approached the northern Bahamas, reconnaissance aircraft came in with a 192 kt. wind at flight level. I quickly called all relatives and close friends there in S. Florida and insisted they drive north, NOW. Get the hell out of Dodge!

Dressler and I visited the NHC to observe the latest weather charts and left there at half past midnight, Aug, 24. We drove to Homestead and looked for a place of relatively higher elevation, as the whole area is 4-6 ft above sea level; and the forecast hurricane surge was double that. We noticed the city hall near US 1 was on a slight man built grade, and maybe another 4 ft. higher. We nestled against the round building, in a slightly indented doorway; accompanied by several homeless folks. Knowing things might get too hairy to stay outside, relatively exposed, we knocked loudly on the entrance door and a police officer came out. He informed us he was the only person there, and would let us into the building in the middle of the hurricane if he could hear us knocking: but he was going to be in the auditorium, three doors inward from the entrance. Unlikely he would hear us knocking that far inside, with winds blowing 120+ when that happened. Also, we realized we would be in complete darkness during the worst, and dying outside with no light to capture our possibly last video ever.
The eye tracked a little more north of west on the 2 am position, so we decided to head north up US 1 at 2:30 am; 10 miles or so; to get to where the northern edge of the eye or northern eyewall would come inland As we drove past 212 st, and the Cutler Ridge shopping mall, we thought about stationing ourselves there up against the lee side of the stores. Being pitch black, we decided against that. Then past the Perrine shops near 180 st; and we made the same decision. I believe it is fortuitous luck for us that it was nighttime, or we would likely have stayed in one of these shopping centers. After the storm, Perrine's shops were basically demolished. Cutler Ridge mall looked like a death trap as well; cars flipped over here and there, metal light poles bent to the ground.

So we ended up at my partially boarded up rental house near 160 st. just west of US 1. Tornado expert ProfessorTed Fujita's study using his original scale marked several houses within a hundred yards of our location as having received F3 wind damage (158-206 mph.). An unofficial anemometer less than two miles to our ESE reported a gust of 212mph. (that air reached our position less than a minute later by simple extrapolation.) Clemson University scientists later tested that anemometer and estimated that it recorded "only" 186 mph. Country Walk housing development, noted in the news for being totally destroyed was 4 miles inland to our WNW. (My nephew's and NHC employee Stanley Wright's homes being among those basically destroyed.)

The picture below was shot at 7 am, hours after the worst. Andrew's howl was so loud we did not hear those vehicles flipping just across the street; about 60 ft. from our huddled position, inside. One mile east, a U-Haul truck landed on top of a two story structure. My friend's backyard pool in Cutler Ridge contained the trailer from a tractor trailer rig that his neighbor had parked on the road.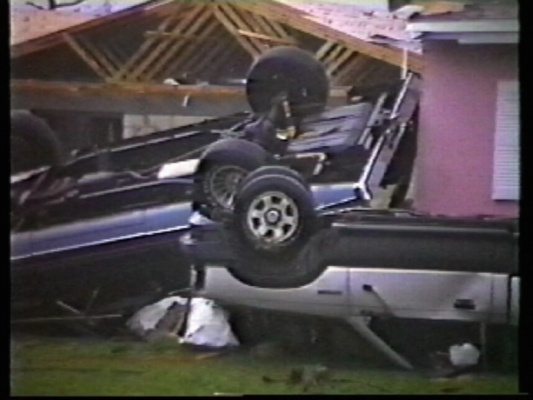 Back to 3 am. In front of house between Cutler Ridge and Perrine; 3 miles from the water. Winds steady around 40 mph, gusts to 60 or so. Lights go out.
3:30: Green sheet lightning begins to flash to our east and southeast, signaling hurricane winds coming inland: power lines and transformers sending out this "lightning". : Which always appears blue on video, but deep green to the human eyeball. Increase in winds is monumental from this point onward.

A gust to 110 mph or so sends the storage shed from the backyard flying southwestward at an ever increasing altitude. Soon the 60 foot pine tree next door cracks ten feet above the ground, shaking the earth as the trunk crashes on the roadway. Many trees are snapping loudly. The air permeates from the smell of freshly cut pine. Pitch black outside, and only my battery-powered spotlight for illumination. Both cameras fail electronically, as the dreaded DEW signals begin to flash. Limbs now flying by. Sound of glass crashing everywhere. Gusts to 125 mph or so now. Roofs seen peeling away nearby. Dogs howling. Burgler and car alarms screaming continuously over the periodic lulls in wind back down to 80-90 mph.

Huff, puff, gusts to 130 or so; dropping back' to a steady 100 or so between blinding bursts of truly horizontal rain being illuminated by the deep green sheet lightning flashes. Everything in sight appeared to be leaning 45% towards the SW; bent over by the sustained fury blasting in from the NE. TILT. Time for me to go inside and join three others huddled under the heavy oak table in the one boarded up room in center north side of the house.

Bob the drunk from next door was over but wanted to go home to make sure the tarp was still on his vintage 1964 Impala. I held him back, and finally convinced him he could not make it uninjured through these gusts and flying chunks of everything rocketing by between the two houses; plus the tarp was certainly miles away by now.
4:10-5:05 am. Huddled with a flashlight listening to four very loud heartbeats under the oak table. Large limbs, ceramic roof tiles, roof segments, etc. etc. periodically crashed thunderously against the house, shaking the foundation. Each gust threatened to lift the roof off, constantly increasing in power. Bob, peeking out the front door insisted the roof was lifting up. I am not sure ours was; but many nearby were being ripped up. Andrew's high pitched howl grew louder and higher pitched with each intensifying gust: like the sound of a million screaming babies. Our mere existance felt severely threatened as the concrete house vibrated more violently with each passing minute. Fujita's study later estimated some gusts in our area of about 180 mph. During the peak winds, I could swear a Boeing 747 was revving up its jet engines just outside the house, ten feet away. To be barely heard by the person cowered just 6 inches away, I had to scream at the top of my lungs.
I was staring at the barometer hoping out loud that it would quit going down already. Finally at 4:55 or so it bottomed out at 942 mbs. The northern edge of the eye was now 2 miles south of us. Water was about 3 inches deep in the house from rainwater penetrating the CBS walls and blowing in through other minor openings. Pants were soaked, I believe from sitting in this rainwater. Ceramic Spanish roof tiles were being blown though the window openings in some rooms and were being embedded deeply into the interior walls.

A NHC employee's house (Stanley Goldenberg - whose wife gave birth that night) WAS located one mile closer to the eye and recorded 932 mb. In the eye it was 922 at the time. Quite a gradient. Goldenberg's house basically collapsed soon thereafter.

The gusts lightened up to barely 100 by 5:30 and down to 85 mph in periodic gusts as daylight crept in. Outside, leaking natural gas mains caused the air to smell explosively dangerous. A few hours later we drove east to US 1, north to the NHC, then back south. Some of the video of the aftermath is shown on this video I posted on Youtube. As I mentioned there are no shots during the worst of it; and on film only 95 mph gusts. One camera started functioning again after daylight.

The clips in the video
http://youtu.be/ttaohrF_3y4

are from Perrine, Cutler Ridge, Naranja, and Homestead. Homestead is several days later; the rest the day after landfall. The clip where Little Ceaser's concrete walls collapsed is right near the water where the northern edge of the eye crossed over. The ship on land is nearby.
Almost every power pole (wood, concrete, and metal) from 136 st south to Florida City was down or badly bent; a distance of 15 miles.

This was not a pleasant experience. I will not purposely intercept a category #5 hurricane again. I suggest no one else does either. Would you purposely drive into a fifteen mile wide F# 3 tornado? Only if you are delusional and/or own a Sherman tank, but equipped with added landing gear.
__________________
Years before, I visited the Roanoke, VA. weather office as I was passing through town one fall afternoon. The met. on duty asked why I was so interested in hurricane formations. I told him I had been chasing them since 1965. He asked me if I had read the account of Hurricane Janet, 1955, striking Swan Island with gusts well over 200 mph. I had, and had seen pictures of the island basically laid flat, except for a small concrete blockhouse. This storm also took the only recon. plane in the Atlantic ever to not return to base.
When it hit Chetumal, Mx. the next day the Monthly Weather Review stated:
'<<<< radio operator in Chetumal recorded 920.1 mb. The anemometer at the airport registered 152 kts (175 MPH) before it collapsed. In Chetumal only 4 badly battered buildings were left standing. In Chetumal approximately 120 bodies were found... The article also states that there were only 2500 people living in Chetumal back then >>>>.

" Do you remember that there were five weather service men who barely survived that cane on Swan Island, huddled in a brick blockhouse with their heads stuck under a desk? One was named Brown; that is me. (not the same Brown that I mentioned above in Homestead in the eye during Andrew.) I still wake up screaming from nightmares to this day, 20 years later. You have got to be dumb or just ignorant of the potential destruction to try and catch a SuperHurricane (which canes over 150 sustained were called back then before the Saffir-Simpson scale.)"

A picture of the Swan Island Weather Service Office and surrounding area after Janet is below..

I should have listened. One time inside a category #5 hurricane is more than enough. I will never do it again; on purpose at least.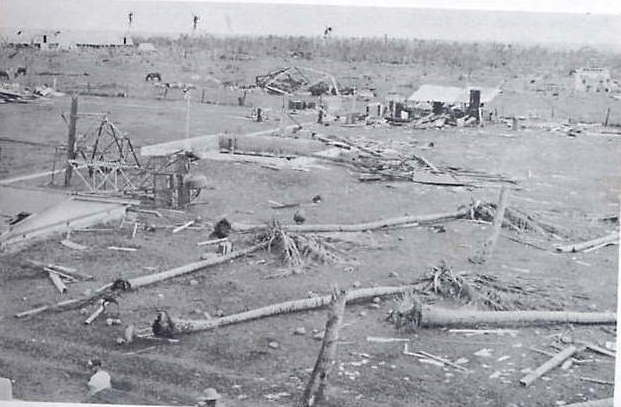 from "Atlantic Hurricanes", 1960, Banner Miller & Gordon Dunn